William E. Easterling has been chosen as the new assistant director for the U.S. National Science Foundation (NSF) Directorate for Geosciences (GEO), the agency announced last Friday. Easterling, who has been dean of the College of Earth and Mineral Sciences at the Pennsylvania State University (PSU) in University Park since 2007, begins his 4-year appointment at NSF on 1 June 2017.
The current assistant director, Roger Wakimoto, who has served since 2013, will step down on 24 February after 4 years leading the directorate. He will appear with Easterling tomorrow at the Fall Meeting of the American Geophysical Union (AGU) to introduce the Penn State researcher and administrator to the Earth science community as his successor. The two men will appear at a town hall forum on the "Latest News on NSF Geosciences" at 6:15 p.m. Pacific Standard Time.
Wakimoto told Eos that NSF has yet to decide who will serve as the acting assistant director between his departure in February and the start of Easterling's tenure in June.
Easterling, who is a professor of geography and Earth system science at PSU, is an internationally recognized expert on how climate change likely will affect Earth's food supply. He was trained as an economic geographer and climatologist at the University of North Carolina at Chapel Hill and served as a convening lead author for the chapter on food fiber and forestry of the Intergovernmental Panel on Climate Change's Fourth Assessment Report.
Optimistic About NSF Role Regarding Climate Change
In an interview Friday, Easterling told Eos that he is taking the NSF position because it is a perfect opportunity "at a time when leadership is going to count, especially on critical topics like climate change."
Easterling expressed hope that NSF will continue to be a valued voice for science during the Trump administration. He said that he remains optimistic "even though some of the appointments that are being suggested for the cabinet team make it apparent that there is a concerted move to dismiss climate change as both a scientific and a policy issue."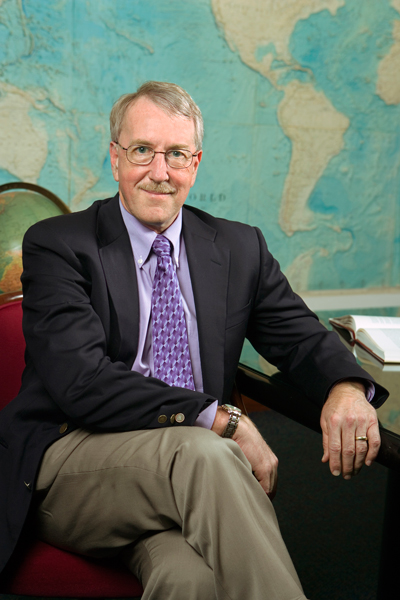 He told Eos that from what he has seen and heard, "there are decisions being made [by the incoming administration] that will position NSF to be a player in the sense of continuing to provide unfettered new knowledge that helps inform the political decision-making as it relates to climate change."
Geosciences Leader
In a press release by the agency, NSF Director France Córdova cited Easterling's "extensive leadership experience and a clear vision for the Geosciences Directorate" as the reason for this appointment, along with "a legacy of dealing with challenging research topics head-on to advance America's strategic and economic interests."
Pennsylvania State University president Eric Barron described Easterling as a "staunch proponent" of basic research who has also bolstered the university as "a world leader in generating the fundamental knowledge needed to find solutions to the many challenges we face as a civilization." He welcomed that Easterling "will now be in a position to help guide investment in basic research across the nation with the goal of increasing the understanding of issues that impact our environment."
Writing the Earth Science Narrative
In his interview with Eos, Easterling voiced his concern that "we have lived in a time when the narrative of research, particularly in the Earth sciences, has been written by those outside of the Earth sciences," whether by politicians or others. Stating that "it is past time for the foundation to write its own narrative of the importance of the Earth sciences to society," Easterling said that at NSF, he would like to prioritize not only fundamental research but also "being a place where that information is translated into usable knowledge by educators, by government, by the public."
"I think the wise move of a new leader of NSF GEO is to continue to bring home the point that science knows no sides," he added. "Science is simply there to produce new knowledge and let the chips fall where they may."
—Randy Showstack, Staff Writer