Environmentalists breathed somewhat of a sigh of relief on Thursday afternoon following President Donald Trump's dramatic tweet that embattled Environmental Protection Agency (EPA) administrator Scott Pruitt has resigned from that post. However, any enthusiasm about Pruitt's departure was muted, out of concern that the person taking over as acting head of the agency would follow in Pruitt's footsteps with the same deregulation policies aimed at dismantling and weakening environmental regulations.
In announcing Pruitt's resignation, Trump tweeted that "within the agency Scott has done an outstanding job, and I will always be thankful to him for this." Trump stated that current EPA deputy director Andrew Wheeler, who was confirmed for that position by the Senate on 12 April, would assume duties as the acting EPA administrator on Monday. "I have no doubt that Andy will continue on with our great and lasting EPA agenda. We have made tremendous progress and the future of the EPA is very bright!"
Wheeler is a former coal lobbyist who also previously worked as general counsel for Sen. Jim Inhofe (R-Okla.)
Pruitt's Controversial Tenure
During his roughly 17-month stint as the head of EPA, Pruitt worked to roll back dozens of environmental regulations, including undertaking efforts to weaken or repeal regulations related to climate change and air pollution, such as the Clean Power Plan, which provides carbon pollution emission guidelines for power plants, and the Waters of the United States (WOTUS) rule, which defines which water bodies are subject to jurisdiction under the federal Clean Water Act. Pruitt also had advocated for the United States to withdraw from the Paris climate accord, and he joined Trump at the podium for the 1 June 2017 withdrawal announcement.
In addition, Pruitt was mired in a growing number of scandals. They included charges that he misused taxpayer money on excessive personal security and a $43,000 soundproof phone booth; that he got a sweetheart $50-a-night condo rental from the wife of an energy lobbyist; and that he had his security detail and EPA staff undertake personal errands and tasks such as calling the Trump International Hotel in Washington, D. C., about obtaining a used mattress and contacting the restaurant firm Chick-fil-A about business opportunities for Pruitt's wife.
"Finally"
Rep. Don Beyer (D-Va.), the first member of Congress to issue a formal statement calling for Scott Pruitt's resignation, summed up his reaction to Pruitt's departure in one word "Finally."
"Scott Pruitt stood out, even in Donald Trump's uniquely corrupt administration, for his willingness to cede direct influence and control over EPA policy to industries and special interests which harm public health. His scandals were inextricably linked to his antipathy to environmental protection, and to his close association with those who value profit over clean air and water," Beyer said. "The only way to really turn the page on the Pruitt era will be for Trump to appoint an EPA Administrator who is committed to environmental stewardship, and willing to clean house and wrest control of the EPA back from polluters and lobbyists."
Sen. Sheldon Whitehouse (D-R.I.) tweeted that "the sad part" about how long it took Trump to get rid of Pruitt "is that it was the cascade of little sleazy acts that brought Pruitt down, not his overarching corruption by fossil fuel interests."
Supporters Laud Pruitt's Efforts
Sen. Jim Inhofe (R-Okla.) praised Pruitt for being "single minded at restoring the EPA to its proper statutory authority and ending the burdensome regulations that have stifled economic growth across the country."
Inhofe, author of the 2012 book The Greatest Hoax: How the Global Warming Conspiracy Threatens Your Future, said that Wheeler, who worked for him for 14 years, is the perfect choice to serve as acting administrator. "I have no doubt and complete confidence he will continue the important deregulatory work that Scott Pruitt started while being a good steward of the environment."
Myron Ebell, director of the Center for Energy and Environment at the Competitive Enterprise Institute, thanked Pruitt for his "outstanding service" as EPA administrator and regretted that "personal troubles got in the way." Ebell, the former head of the Trump's transition team for the EPA, particularly praised Pruitt for his "leadership getting the United States out of the Paris Climate Treaty" and for rolling back climate rules and other regulations.
Caution About the Future
Denise Morrison, acting president of the American Federation of Government Employees' Council 238, had a sharply different opinion about Pruitt. "Pruitt was the steadfast ally and champion of big polluting industries and he was the architect of unrelenting hostility toward federal, professional scientists, engineers and all other EPA employees," she said in a statement. The council represents more than 8,000 EPA employees. Morrison warned that although Pruitt is gone, "the proverbial fox hasn't left the henhouse" and that "Pruitt's blatant disregard for life-saving regulations mustn't be the standard for his successor."
Ken Kimmell, president of the Union of Concerned Scientists, called for EPA to "clean house." He said in a statement that the next EPA administrator "needs to be someone who will uphold independent science and commit wholeheartedly to the agency's science-based mission of protecting public health and the environment. Until then, Congress should conduct considerably more oversight because political appointees at the EPA are sidelining science and compromising the agency's effectiveness."
Michael Mann, professor of atmospheric science at Pennsylvania State University in University Park and director of the university's Earth System Science Center, told Eos that "it is a positive development that Pruitt has resigned, but it comes far too late and after far too much damage to the environment."
Worry About Wheeler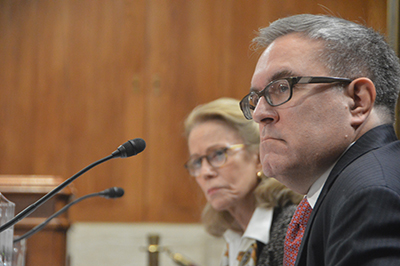 The ascension of Wheeler means that we'll likely have "a continuation of the same bad policies [as Pruitt] but with a lot more political sensibility," Beyer previously told Eos. "I wouldn't expect that he's going to suddenly become a champion for a stronger Clean Water Act and a stronger Clean Air Act. He's still going to follow that deregulatory process that is under way right now."
Mann added that Pruitt "was just a loyal fossil fuel industry foot soldier, installed by the Koch brothers [conservative and libertarian activists]." He didn't hold out hope that Wheeler would be any better in upholding environmental regulations and noted that "much like the mythical hydra, when one head of the climate change denial monster is cut off, another grows back readily in its place." Mann said "the only real check on this agenda of unchecked environmental exploitation is people coming out to elect Democrats who will stand up to Trump's dangerous agenda in the upcoming midterm elections."
—Randy Showstack (@RandyShowstack), Staff Writer