Thirteen Ghoulish Place-Names Across the Globe. Here's a fun compilation from our own Eos to get you in the mood this All Hallows' Eve.
—Faith Ishii, Production Manager
Halloween Costumes Will Create 2,000 Tonnes of Plastic Waste in the UK This Year, Environmental Charity Warns.
Today we revisit a true horror with 'The Scariest Thing About Halloween is the Plastic'

Our new research, supported by @hubbubuk estimates UK Halloween celebrations this year will generate over 2,000 tonnes of plastic waste from clothing and costumes alone. …terrifying. pic.twitter.com/av84mKjzCS

— Fairyland Trust (@fairylandtrust) October 18, 2019
When all the spooky business is done this year, try to find ways to keep old costumes, decorations, and pumpkin buckets out of landfills. You can donate them, reuse them, repurpose them, recycle them. But don't let today's Halloween fun pollute Halloweens of the future.
—Kimberly Cartier, Staff Writer
A Key to Coral Bleaching Events? Location, Location, Location.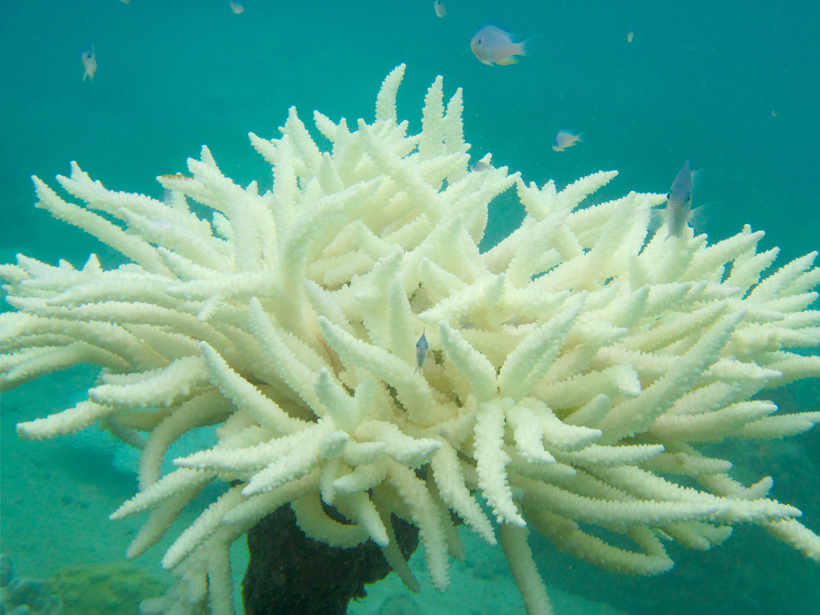 Coral bleaching is a complex process, but while warming water temperatures certainly play a major role, it seems intuitive (doesn't it?) that the occurrence of bleaching events would correlate with reef latitude—that is, the closer a reef is to the equator, the more likely its coral is to bleach, because the ocean is warmer at low latitudes. Surprise! That's not the case, according to a new study that indicates that longitude is actually a better predictor of bleaching events than latitude.
—Timothy Oleson, Science Editor
General Motors Sides with Trump in Emissions Fight, Splitting the Industry. As someone who grew up in Southern California when emissions regulations quite visibly cleared the air in front of my very eyes, I'm captivated by the drama unfolding between the state, the Trump administration, and the automobile industry that earlier this summer exhibited the frankly shocking behavior of…doing the right thing. It's replete with questions involving federal versus states' rights, long- versus short-term economics, what it takes to get a fuel-consuming industry to not only act but potentially act against its own interest—and whether we really care about the motivations behind it if it ends with cleaner air to breathe. This week's article is the latest chapter.
—Heather Goss, Editor in Chief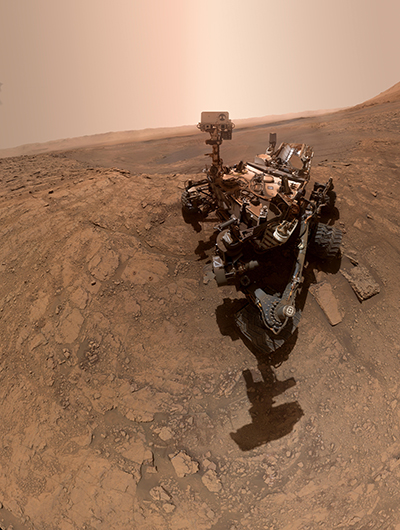 New Selfie Shows Curiosity, the Mars Chemist.
Curiosity is doing "wet chemistry" work on Mars. Note the lack of a white lab coat and eye protection. Tsk, tsk.
—Nancy McGuire, Contract Editor
Excavating AI. A nice complement to this opinion piece in Eos on artificial intelligence, this essay dives deep into the training sets used when teaching computers to recognize and classify images. "There are categories for Closet Queen, Convict, Crazy, Failure, Jezebel, Kleptomaniac, Pervert, Schizophrenic, Second-Rater, Spinster, Waverer, and Wimp."
—Caryl-Sue, Managing Editor