Dorian, Hurricanes, and Flood Risks. Following the news about Dorian sent me to Eos's own archives to read more about hurricanes and flood risk. Here are a few articles that caught my attention: A Diary of a Storm is an engaging essay by a former editor about her experience of Harvey in Houston. The authors of the opinion article Millions More Americans Face Flood Risks Than Previously Thought explain how "top-down" flood modeling over vast areas can help provide more comprehensive floodplain mapping and better risk assessments. And in Sharing Data Helps Puerto Ricans Rebound After Hurricane Maria, scientists describe their project focused on drinking water and Hurricane Maria data. They believe that "the scientific community can do more to reduce the cost and human impact of destructive hurricanes."
—Faith Ishii, Production Manager
Copernicus Sentinel-6A Ready for Testing. I'm eagerly awaiting next year's launch of the two newest Copernicus Sentinel satellites from the European Space Agency. Sentinel-6A and its twin Sentinel-6B will be dedicated to monitoring changes in global sea level.
—Kimberly Cartier, Staff Writer
Bizarre Fossils Reveal Asia's Oldest Known Forest. How cool is it to envision this newly discovered ancient forest of small trees growing along a Devonian-age coast where this piece of land in Xinhang, Anhui, China, was located at least 360,000,000 years ago? Time travel to the past is one of the great joys of geology!
—Liz Castenson, Editorial and Production Coordinator
Rising Global Temperatures Influence California's Fire Season.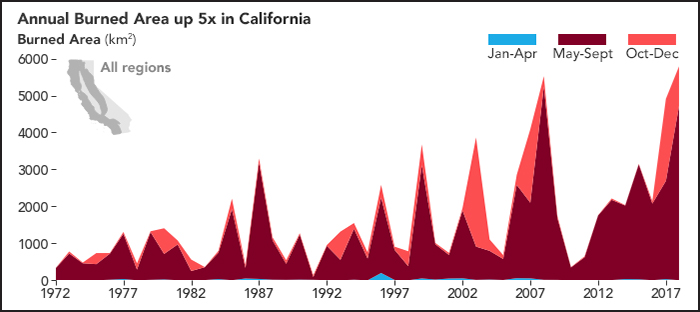 Researchers divided California into four regions (North Coast, Sierra Nevada, Central Coast, and Southern Coast) and examined fire activity during different seasons. The Earth Observatory article has graphs for all four regions, and the one above shows the seasonal and annual burned area in the whole state between 1972 and 2018. Overall, the annual burned area increased by 405% during that period.
—Melissa Tribur, Production Specialist
Elizabeth Warren Unveils Climate Change Plan, Embracing Jay Inslee's Goals. In advance of the CNN climate debate, a number of Democratic presidential hopefuls released details of how they would deal with climate change. This New York Times story does a good job of examining Sen. Elizabeth Warren's plan, including pointing out that Warren has picked up on some of the ideas advocated by Washington State governor Jay Inslee, who has dropped out of the race.
—Randy Showstack, Staff Writer
Terrawatch: Warnings Fail to Prevent U.K. Fracking Quakes. After M2.1 and M2.9 fracking-related earthquakes shook the English city of Blackpool in August, seismologists are investigating why the industry's traffic-light system failed. They're looking into U.K. shale formations and how they may be different than commonly understood shale.
—Heather Goss, Editor in Chief
Great Pacific Garbage Patch Swim Nears Conclusion.
I doubt that swimming through a "soup" of plastic in the middle of the ocean is high on many bucket lists. But long-distance swimmer Ben Lecomte took one for the team and did just that, swimming 335 nautical miles through the Great Pacific Garbage Patch to raise awareness of plastic pollution. Read this great interview with Lecomte to learn about his motivations and what he saw along the way.
—Timothy Oleson, Science Editor
When we put a plastic bag in the trash, it's out of sight, out of mind. But where does it end up? Ben Lecomte, a long-distance swimmer, ventured into one burial ground for the world's plastics: the North Pacific garbage patches. His recount of swimming through the swirl of bottles and milky soup of microplastics is a reminder that our plastics from land have a long life at sea.
—Jenessa Duncombe, Staff Writer