Christopher Columbus Kraft, NASA's Legendary Flight Director, Has Died. NASA's first flight director and an architect of the Apollo program (and a personal hero) died this week the way we all should: after a long life and in the midst of massive celebrations of his greatest achievement. There is no shortage of Apollo remembrances right now, but if you read one thing on the legendary Kraft, make it longtime Houston Chronicle (now Ars Technica) space reporter Eric Berger's tribute to his friend.
—Heather Goss, Editor in Chief
.
The Hot Mess of Hawai'i's Renewable Power Push.

Ouch! This account of one Hawaiian island trying to go 100% renewable is cringeworthy.
—Jenessa Duncombe, Staff Writer
.
Spacecraft Designed to Ride on Sunlight Deploys Its Reflective Solar Sail.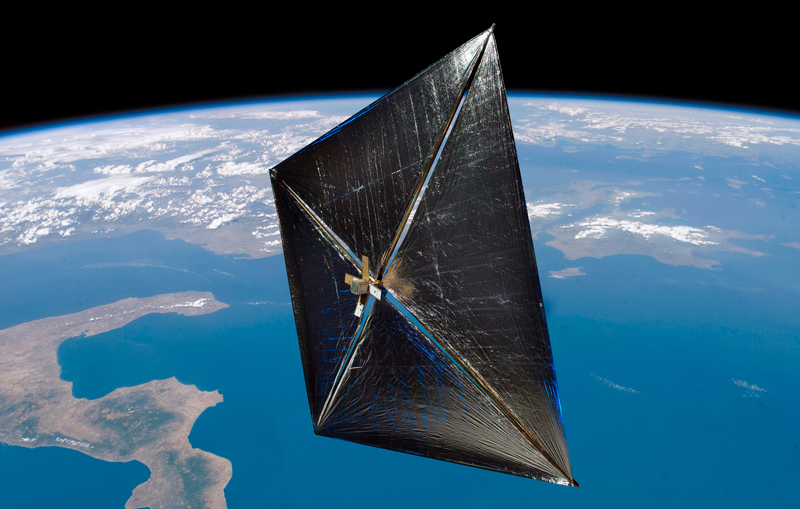 Perhaps lost somewhat amid the recent commemorations of Apollo 11 has been news of other exciting space missions, like LightSail 2, which just released a boxing ring–sized Mylar sail to begin testing its viability for solar propulsion. Great write-up here of the recent development and its backstory.
—Timothy Oleson, Science Editor
.
Female Scientists' Pages Keep Disappearing from Wikipedia—What's Going On? Answer: sexism. This is a huge issue for women scientists across disciplines and even more so for women at the intersection of other marginalized identities.
—Kimberly Cartier, Staff Writer
.
Chamoson: A Dramatic Debris Flow Video from Last Year in Switzerland. The power of a mudslide is terrifyingly interesting from a geological perspective. This event in Switzerland in 2018 was covered by AGU's The Landslide Blog.
—Liz Castenson, Editorial and Production Coordinator
.
As NASA's Apollo Space Program Grew, Alabama Was Pressured to Desegregate. Was the space program indirectly responsible for Huntsville's beginning to desegregate? It's interesting to think about. We still have far to go to eradicate discrimination and injustice in this country—how might scientific societies and programs today contribute to bringing about large-scale social change?
—Faith Ishii, Production Manager
.
Waste Only. Inside the plastic industry's efforts to rebuff limits on plastic and a depressing look at the state of plastics recycling.
—Randy Showstack, Staff Writer
.
The Toxic Legacy of DDT Lives on in Remote Canadian Lakes. Here's a worrying look into the long life of the poison we put into our environment: Fifty years after Rachel Carson's revealing work on DDT led to its banning, the amount that scientists measured in these lakes was still "staggering."
—Heather Goss, Editor in Chief
.
Corrections to Ocean-Temperature Record Resolve Puzzling Regional Differences. Old-time oceanographers measured water in buckets. A new study (explained in this Twitter thread) looks to make these historical measurements more precise.
—Jenessa Duncombe, Staff Writer
I have a piece in @nature today discussing how some early 20th century temperature variation in the North Atlantic and the North Pacific oceans are an artifact of changes in measurement approaches: https://t.co/VqHjQE1uBb 1/10

— Zeke Hausfather (@hausfath) July 17, 2019
.</span
Watch the Ridgecrest Earthquake Shatter the Desert Floor in Stunning Before-and-After Images. OMGif! This article and photo series from the LA Times really put the Ridgecrest earthquake in perspective.
—Caryl-Sue, Managing Editor
Animated slides show how the quake permanently jolted a huge block of earth along the fault away from the other. Here, the image shows how one block of ground slid past the other in the Ridgecrest earthquake. https://t.co/P7AKfmReIe (@SotisValkan / Google Earth / DigitalGlobe) pic.twitter.com/YopQ76PLJP

— Los Angeles Times (@latimes) July 22, 2019