Studying the Atmosphere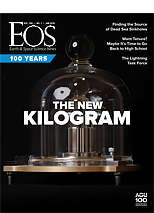 • Climate Modeling Pioneer Leads as Role Model Too

• Podcast: Uncovering the Ozone Hole

• New Analysis Provides a Fresh View of the Atmosphere on Venus

• Podcast: How the Cold War Drove Atmospheric Science

• Microbes Rain Down from Above, to the Tune of the Seasons
In the second episode of Third Pod from the Sun's Centennial series, two researchers from NASA Goddard Space Flight Center in Greenbelt, Md., tell the story of how scientists discovered the hole in the ozone layer and figured out what created it.
Climate scientists Susan Strahan and Anne Douglass began their careers right when the hole was discovered. In the podcast, they reminisce about working on the problem and their ongoing efforts to monitor its recovery. Ozone-depleting substances have been declining in the atmosphere following the signing of the 1987 Montreal Protocol and its amendments, which banned chlorofluorocarbons (CFCs) and other ozone-depleting chemicals.
But a new twist in the ozone hole story has emerged. In May 2018, scientists published a paper in the journal Nature showing that from 2014 to 2016, emissions of the chlorofluorocarbon CFC-11 increased by 25% above the average measured from 2002 to 2012. Scientists suspected that someone was illegally emitting these chemicals. Investigations by a U.K.-based environmental agency revealed that insulation manufacturers in China—a signatory of the Montreal Protocol—were likely illegally producing and using the banned substance.
In November of 2018, in response to the unexpected rise in CFC-11, the parties to the protocol adopted a decision strengthening enforcement of the agreement. China has already reported the discovery of sites illegally producing CFCs.
The Montreal Protocol is now tackling global warming. This month, the Kigali Amendment to the Montreal Protocol went into effect, phasing out hydrofluorocarbons, or HFCs, which replaced CFCs but are themselves potent greenhouse gases.
The Montreal Protocol's ongoing success is just one example of science's enduring impact on our planet that we'll explore in future Third Pod Centennial episodes.
—Nanci Bompey (@nbompey), Contributing Writer, AGU