Apollo at 50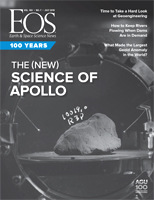 • Apollo's Legacy: 50 Years of Lunar Geology

• Spacecraft 107's Big Trip

• The Mystery of the Moon's Missing Metals

• Podcast: Apollo Moon Rocks

• Small Steps and Giant Leaps

• Seeing the Light

• Apollo May Have Found an Earth Meteorite on the Moon
In partnership with the National Archives Foundation, AGU was proud to copresent a panel discussion about the role of geosciences in the Apollo missions and the future of the space program on 17 July 2019. Coinciding with the 50th anniversary of the first lunar landing and AGU's Centennial year, the event was introduced by AGU president Robin Bell, AGU CEO/executive director Chris McEntee, and U.S. archivist David Ferriero.
"In 1919, when AGU was founded, the world was a very different place. However, despite the century's worth of change, the ability of Earth and space science to improve our society—and the desire of scientists to provide those benefits to humanity—has remained the same," said McEntee. "During times of uncertainty and change to Earth's climate and the scientific enterprise, all of us—particularly the scientific community—must join together to address these concerns. Like all those who were part of the Apollo 11 mission, we must be creative and passionate; committed and determined. We must advance research and do so with the integrity and transparency that is the foundation of scientific discovery."
The panel was moderated by NASA chief scientist James L. Green and included Sean Solomon, past president of AGU and director of the Lamont-Doherty Earth Observatory; Sonia Tikoo, assistant professor at Stanford University; Steven Hauck, professor of planetary geodynamics at Case Western Reserve University; and Heather Meyer, postdoctoral fellow at the Lunar and Planetary Institute.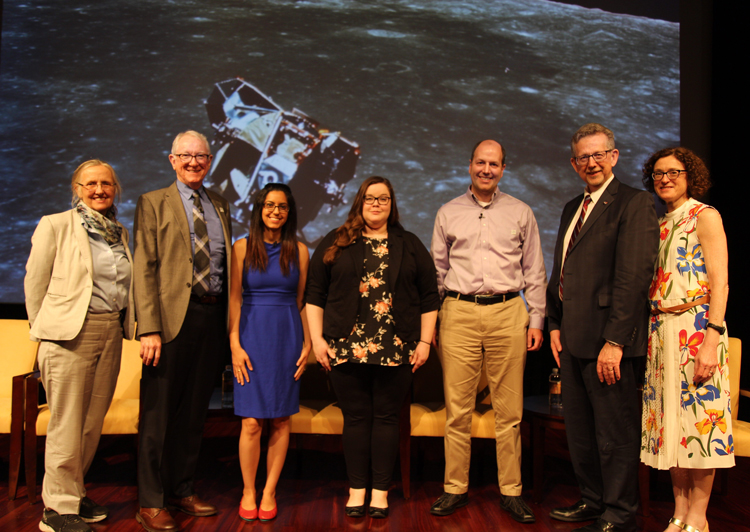 —Joshua Speiser ([email protected]), Manager of Strategic Communications, AGU