The Next Scientific Challenges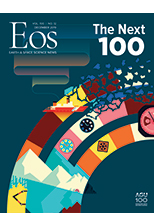 • The Road Ahead…

• A Geodata Fabric for the 21st Century

• No Place to Flee

• Machine Fault

• Our Greatest Challenges Require Science, Not Silence

• Communities Thrive with Thriving Earth
All year in the pages of Eos, we've been celebrating 100 years of science since AGU's founding in 1919. Each month we focused on a broad theme—from studies of Earth's interior to the atmospheres of other planets—though in no way could we truly encompass the breadth and depth of work our members conduct across the Earth and space sciences.
Throughout AGU, we embarked on a massive yearlong initiative to mark our centenary. Click on the infographic at right to see what AGU and its membership were able to accomplish. More than 3,000 of you donated to support the next generation of scientists through the Austin Student Travel Grant Challenge (it's not too late to become a donor!). By the end of the year, nearly 100 papers will be published across AGU journals tackling science's next Grand Challenges. AGU launched its Ethics and Equity Center and cut the ribbon on our net-zero-energy headquarters in Washington, D.C., allowing us to lead by demonstration of our values.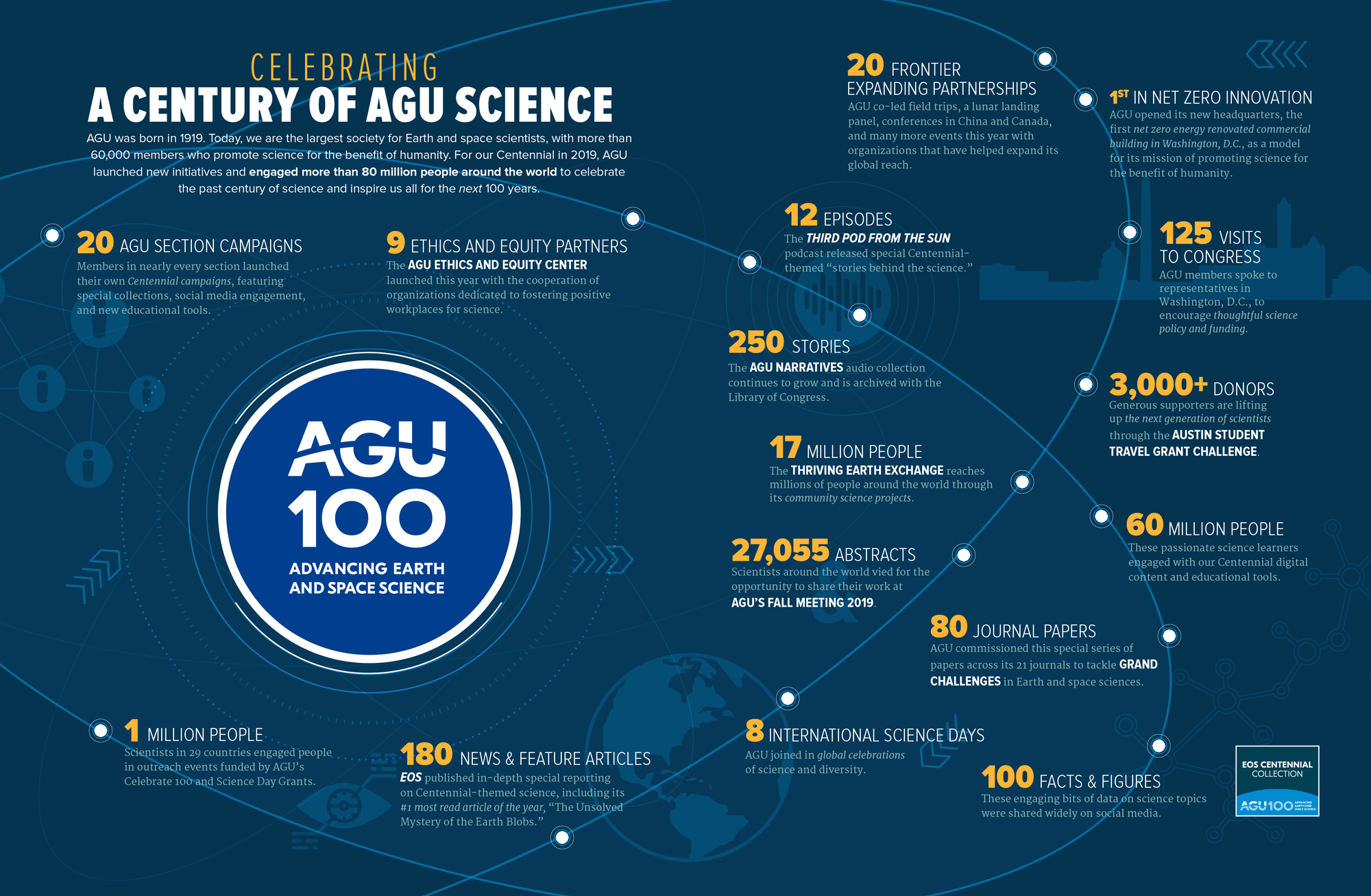 This work doesn't end with our anniversary. As AGU embarks on its second century, we created this issue of Eos as a proper look forward to our future. What challenges—like dealing with big data—will science face? What novel ideas—like community science—will catalyze our work for the benefit of humanity? And through all these questions, how can AGU best support our network of scientists so that we can figure this all out together?
As we face the future, let's not forget what brought us all here in the first place: the passion for discovery. We honor that passion with our special Centennial cover artwork—click here to enlarge the poster you see at the top of this article. Each December issue has one of 10 unique covers, each focusing on a theme we highlighted this year.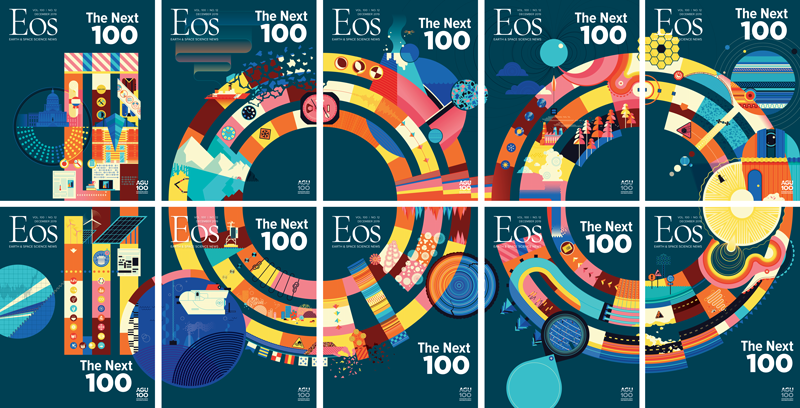 Together they honor our 100th year in displays that will be featured at our Fall Meeting in San Francisco in December. Inside each issue—which you can collect at Fall Meeting—you'll find the full poster by artist Ellen Schofield, and we hope you enjoy searching through it for the hidden gems we included to represent each of your fields. (Think you found them all? Explore the annotated version here.)
Finally, we want to offer special thanks to our Science Advisers, the representatives from each AGU section who have recently taken on a bigger role for us. Eos has evolved significantly over this Centennial year, and the publication's continued success is due to their support and expertise, along with our hardworking writing, editing, and production staff. We look forward to producing Eos in deeper partnership with our advisers to bring you the most interesting and important science from our community.
See you next century!
—Heather Goss (@heathermg), Editor in Chief, Eos