The Greenland ice sheet broke records on 1 August 2019 by losing more water volume in 1 day than on than any other day since records began in 1950, shedding 12.5 billion tons of water into the sea.
The record-breaking day came during a weeklong extreme melt event hitting Greenland due to soaring temperatures and low snow accumulation over the winter. The warmer temperatures are part of a heat wave that scorched Europe in late July, setting records in several countries including Germany, France, and the Netherlands.
Air temperatures rose to 10°C above average in places in Greenland this week and peaked above the freezing point for hours at a time at the ice sheet's summit more than 3,200 meters above sea level. The months of April, May, June, and July also had higher than average temperatures in Greenland.
The volume of water melted per day on the ice sheet this week has increased as temperatures have climbed. The extreme melting on 1 August liquified enough ice to fill 5 million Olympic-sized swimming pools with water, accounting for 12.5 gigatons of water. The latest findings come from observations and model calculations from the National Snow and Ice Data Center (NSIDC) at the University of Colorado.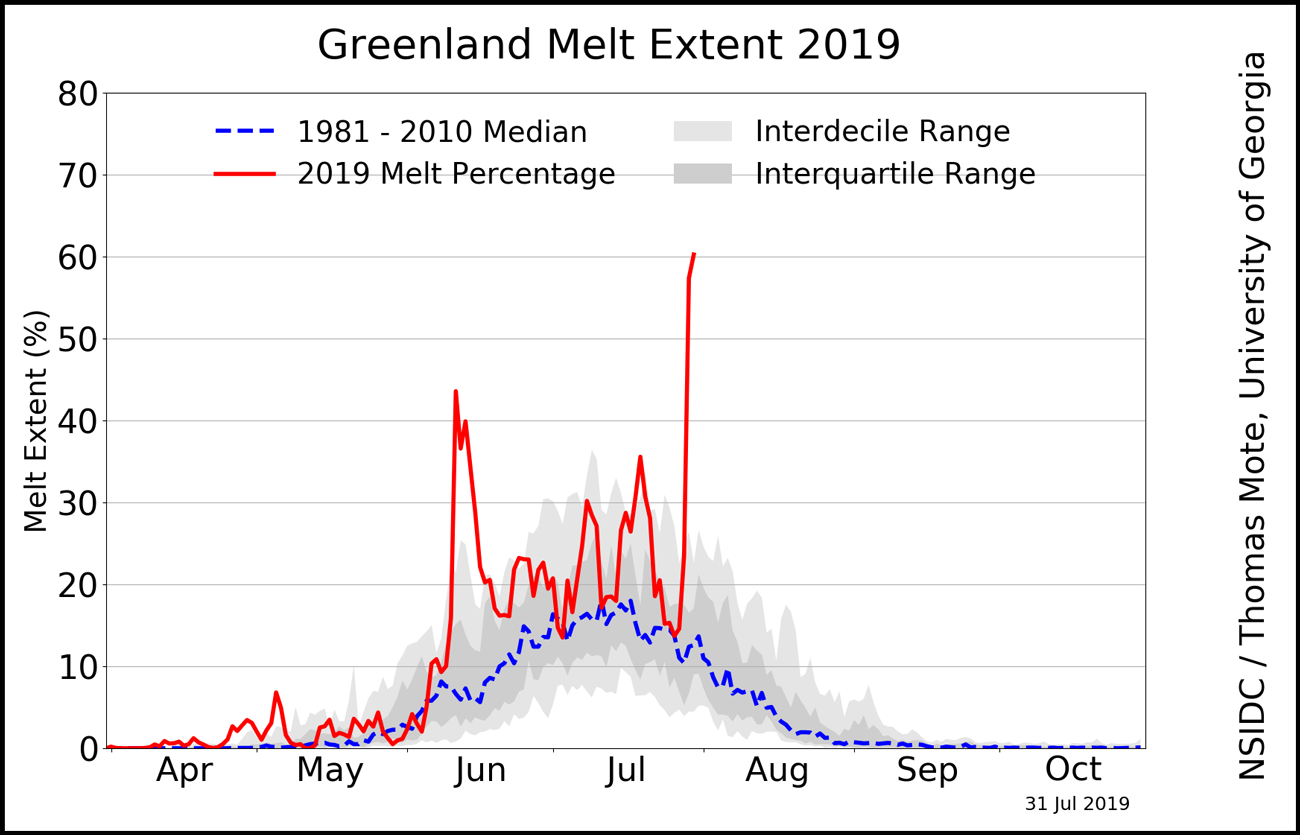 "Any ice that we're losing from the ice sheet is being put into the ocean and adding to sea level," research scientist Twila Moon of NSIDC told Eos.
Greenland is a major contributor to global sea level rise and is projected to contribute 5–33 centimeters of sea level rise globally by 2100, according to a June 2019 study in Science Advances. The University of Colorado estimated that this week's melt will contribute 0.11 millimeter of sea level rise to global oceans.
The last extreme ice melt event in Greenland occurred in 2012, when 98% of the ice sheet's area experienced melting. The 2019 event is smaller by area, with an estimate of about 60% on 31 July. Scientists do not believe that the melt extent will surpass that of 2012 but speculate that the surface mass balance lost, which includes both melting and snow accumulation, could rival it. "There's no doubt that this is a direct consequence of human-caused climate change," Moon said, noting that humans are "active players" in determining how much ice melts around the globe.
However, "the beautiful thing is that there are many things that any individual can do," Moon said. Reaching out to elected representatives, business leaders, and utility companies about lowering greenhouse gas emissions are three ways to get involved, she said.
—Jenessa Duncombe (@jrdscience), News Writing and Production Fellow