Ocean Interactions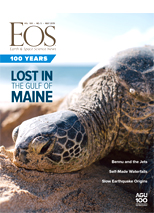 • Why Is the Gulf of Maine Warming Faster Than 99% of the Ocean?

• When Water Met Rock

• Podcast: A Tale of Two Journeys

• Marine Virus Survey Reveals Biodiversity Hot Spots

• Warm Water Is Rapidly Eroding Antarctica's Ross Ice Shelf

• Fast-Melting Mountain Glaciers Speed Up Sea Level Rise
In the early years of the 20th century, several groups of explorers attempted to be the first to reach the South Pole, as Antarctica was one of the last unexplored places on Earth. A team of Norwegian explorers led by Roald Amundsen was the first to reach the pole, on 14 December 1911. A competing British party led by Capt. Robert Falcon Scott reached the pole roughly a month later. Amundsen's team returned safely home, but Scott's team perished on the ice in March 1912.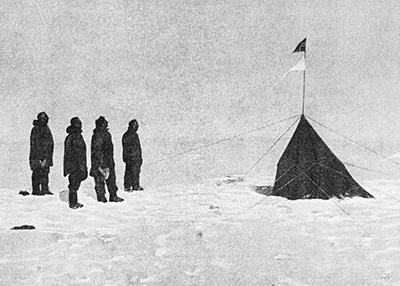 Recent research has suggested that Antarctica experienced unusually warm weather during the Southern Hemisphere's summer of 1911–1912, and this weather may have influenced the outcome of Amundsen's and Scott's race to the South Pole. In 2017, Ryan Fogt, an atmospheric scientist at Ohio University, used data from numerous weather stations in the Southern Hemisphere to reconstruct atmospheric pressures over Antarctica from 1905 to the present.
Fogt found that Amundsen and Scott experienced exceptionally high pressures that were often associated with unseasonably warm summer temperatures on their expedition routes. The warm temperatures were a boon to Amundsen's crew but hindered Scott's progress in two instances, and those setbacks may have contributed to the deaths of the Scott party in March 1912.
In this Centennial episode of Third Pod from the Sun, Ryan Fogt recounts the journeys of Scott and Amundsen during this fateful summer and discusses how the extraordinary weather affected the two polar parties in vastly different ways.
—Lauren Lipuma (@Tenacious_She), Contributing Writer