Today millions of people in southern South America will have the chance to see a total solar eclipse. Among them are tens of thousands who will view the eclipse through a pair of recycled eclipse glasses.
After the 2017 Great American Eclipse, the nonprofit group Astronomers Without Borders (AWB) facilitated the collection of more than 5 million solar eclipse glasses from more than 1,000 collection sites around the country. AWB wanted to give those glasses new homes.
"We thought that people would be sending them in in small batches," AWB president Mike Simmons told NPR. "But as it turns out, we were contacted by people all over the country who said, 'We'd like to collect glasses for you. How do we become a collection center?'"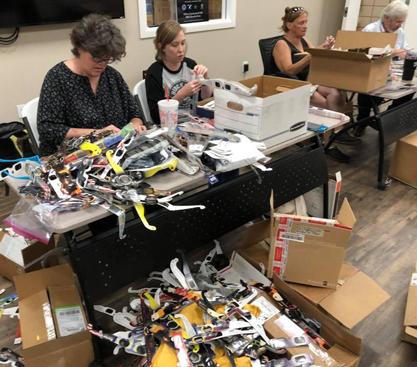 The millions of donated glasses ultimately made their way to a single warehouse in Arkansas. There, a dedicated group of volunteers individually checked each pair to make sure it was safe to use, in good shape, and not fraudulent. Glasses the volunteers deemed good enough to reuse were saved from a premature trip to a landfill.
More than 43,000 glasses made the cut in time to be shipped to Peru, Chile, and Argentina for today's total solar eclipse. AWB worked with the U.S. embassies in those countries to get glasses to schools, universities, planetariums, and people living along the path of totality.
The collection effort wasn't the first eclipse glasses recycling program that AWB has undertaken, but it certainly was the largest, Simmons said, thanks in large part to the plethora of donations from U.S. eclipse viewers.
"People were really into it," Simmons said. "They loved the idea of being able to share the experience they had with kids in other countries where they wouldn't be able to get the eclipse glasses."
Not all of the donated glasses were vetted in time for Great South American Eclipse 2019. AWB is working to sort through more of the glasses in time for an annular solar eclipse in December that will be visible in the Middle East and Asia.
For today's event, AWB also helped arrange two eclipse workshops, one for teachers and one for students, to connect U.S. eclipse viewers with those in Chile and demonstrate that awe of the sky is a universal experience.
You can watch today's total eclipse through a livestream from Chile.
—Kimberly M. S. Cartier (@AstroKimCartier), Staff Writer