For the second year in a row, people across the United States and on all seven continents held rallies in support of science. Speakers and marchers at more than 230 events around the world advocated for increasing diversity in science, defending science from funding cuts and government interference, and promoting science literacy and trust.
Saturday's March for Science events may have drawn smaller crowds than last year, but the participants were as enthusiastic as ever about the advancement of science. Here are some of our favorite posters that captured the spirit of these marches.
At the D. C. March
Some protested policies that put industry profits over environmental protection.
The first signs we encountered heading to @marchforsciencedc. pic.twitter.com/PUMoBmjJD1

— Footprint Network (@EndOvershoot) April 14, 2018
Other demonstrators warned that ignoring scientists could have disastrous consequences.
May the second #MarchForScience tomorrow be a tipping point toward returning science to policy decisions. (picture via @MarchForScience) pic.twitter.com/VhTaJEcMv3

— Laurel Standley (@Laurel_Standley) April 14, 2018
Is scientific consensus a conspiracy? Ridiculous!
"Get real. Scientist do not conspire. We can't even agree on authorship order," reads a sign from Julie #marchforscience2018 pic.twitter.com/2xS7LoRb6W

— Zahra Hirji (@Zhirji28) April 14, 2018
Something to hang your hat on.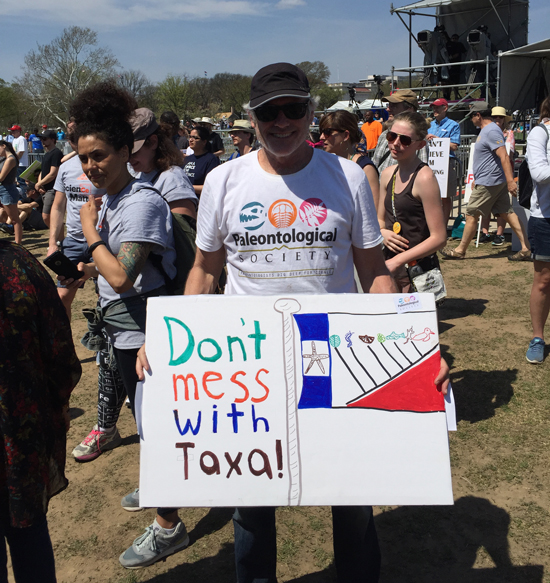 One D. C. participant showed her support for science with a classic chemistry pun.
Loved all of the energy at @ScienceMarchDC. Let's keep the momentum going! #ScienceNotSilence pic.twitter.com/PCJ6FdqABK

— Samantha Swamy (@SamanthaSwamy) April 14, 2018
Science education matters, too.
Science teachers rule! At the @ScienceMarchDC pic.twitter.com/ZzzCTNYHSn

— Carolyn Foote (@technolibrary) April 14, 2018
Two protesters, one taking a pause from identifying proteins.
"Science be curious" and "I could be running a western blot but I'm here" are 2 more signs at the #marchforscience. Two women with the group @sacnas marching pic.twitter.com/nb9BoiWHp4

— Zahra Hirji (@Zhirji28) April 14, 2018
In Cities Across the United States
Large or small, almost every U.S. state and territory hosted a March for Science demonstration.
A graduate student at the University of California in San Francisco with another chemistry pun.
Siyu Feng, a PhD student in biology at UCSF, is one of many participants at San Francisco's #MarchforScience today. pic.twitter.com/82RPkfejXU

— WIRED Science (@WIREDScience) April 14, 2018
Marchers in New York City, this time with a math pun.
Happened to stumble across the #marchforscience2018 today. Loved this sign. pic.twitter.com/90ZgVMxkdx

— Jonathan Larkin (@jonathanrlarkin) April 14, 2018
Signs from Philadelphia, Pa.
So excited to have @PSUBrandywine students supporting science at @PHLScienceAct #RallyforScience! #STEMstudents #MarchForScience #Philly pic.twitter.com/iGGnw9e1ao

— Dr. G (@guertin) April 14, 2018
In Los Angeles, Calif., a protester brings on the biology.
It's @march4sciencela time y'all! #MarchForScience #MarchForScienceLA pic.twitter.com/GhoVKCBaax

— Jaime Cordova (@jaimecor_94) April 14, 2018
Marchers in San Antonio, Texas, with a touch of magic.
@ScienceMarchSA #MarchforScienceSA18 pic.twitter.com/JIhSZ78J0B

— Mary Anne (@MaremaAnne) April 14, 2018
One protester in Colorado, calling out federal science agencies that have been known to censor information.
Baby's first march in Colorado #MarchForScience2018 #MarchForScience pic.twitter.com/QKTRB5NRhH

— Ali Branscombe (@alibranscombe) April 14, 2018
And in Sacramento, Calif., one demonstrator turned her attention to scientific misconduct on the international stage. Her sign translates to "No to the adjustment of science in Argentina."
Make Science Great Again ! #marchforscience2018 #Sacramento pic.twitter.com/to0sHqPe8g

— MariaFlorenciaErcoli (@NeCesiTo1TiemP0) April 14, 2018
On Every Continent
The 2018 March for Science remained a global event, with more than 100 worldwide events ranging from high in the Chilean mountains to equatorial Africa to the icy tundra of Antarctica.
In Abuja, Nigeria, scientists and advocates marched to promote public trust in science and to emphasize that scientific advancement benefits the entire population.
You see how cool science is? Nigeria is Marching!!! @ScienceMarchDC #MarchforScience pic.twitter.com/oOt2tR1jx6

— Modesta (@modestannedi) April 14, 2018
Standing up for science — Abuja, Nigeria. @OFABnigeria @Nigerians4GMO #marchforscience2018 pic.twitter.com/xVkpoitCZu

— Alliance for Science (@ScienceAlly) April 14, 2018
Marchers of all ages in Narrandera in New South Wales, Australia, with signs saying "Science, not silence," "Heads in books, not heads in sand," and "Science…the spectrum of awesome."
Narrandera has now been added as an official #MarchForScience location! pic.twitter.com/GIxbFvB2F0

— Fiona Caldarevic (@FionaMagic) April 14, 2018
One marcher in London simultaneously raised awareness of rising sea levels and promoted gender diversity in science.
#MarchForScience pic.twitter.com/686VTrcYq9

— Anieke Brombacher (@jfabrombacher) April 14, 2018
Demonstrators at an event in Vancouver in British Columbia, Canada.
Powered by science and strengthened by diversity! Speaking up for science at the #marchforscience2018 @ScienceMarchYVR today with fellow supporters! pic.twitter.com/egTPOfy7Tb

— The SPIN (@SPINSciPolicy) April 15, 2018
In Quezon City in the Philippines advocates held signs proclaiming "Climate justice" and "March for science, march for the people." In Blantyre, Malawi, supporters' signs read "Science not silence" and "Mad scientist." And in Chennai, India, activists marched with placards urging "Science unites! Stand up for science!" and "Defend science and scientific outlook."
Happy #MarchforScience day! One of my favorite parts of waking up today is seeing so many photos of communities standing up for science, equity, & justice all around the world. See you in the streets! #KeepMarching

(Pics: Philippines, Malawi, India, Antarctica) pic.twitter.com/xhUQmQDSoa

— Lucky Tran (@luckytran) April 14, 2018
Meanwhile in Antarctica, the team of climate scientists at Neumayer Station III proclaimed, in the translated words of Prussian naturalist Alexander von Humboldt, "Knowledge and recognition are the joy and the right of humanity."
Message of support from Antarctica: overwinterer at the Neumayer Station support the #MarchForScience @ScienceMarchDC pic.twitter.com/ISrptu1Gfi

— AWI Media (@AWI_Media) April 14, 2018
—Kimberly M. S. Cartier (@AstroKimCartier), Staff Writer