At a congressional hearing last week on improving the nation's water infrastructure, Republicans and Democrats alike bemoaned the poor condition of the nation's locks, dams, levees, ports, and other systems but differed on what is the biggest cause of the decline.
Republicans placed much of the blame on regulations and permitting processes that they say are misguided and can tie up projects for years or even decades. Democrats acknowledged bureaucratic snafus and misguided regulations but largely pointed their fingers at underinvestment in projects.
The 9 March hearing followed on the Trump administration's pledge to push for a $1 trillion investment in infrastructure and to cut back on federal regulations. Legislators at the hearing suggested that the infrastructure funding for water projects could be cobbled together through a combination of federal funds, private investments, and other sources to improve navigation, flood protection, and other needs. Two committee members, a Republican and a Democrat, also jointly released a letter asking President Trump to protect a water infrastructure fund often tapped for other uses.
"Regulations in Search of Problems"
Fixing the nation's infrastructure "isn't a partisan issue. This is something that we all of us need to be working very closely together on," said Rep. Garret Graves (R-La.), chairman of the House Transportation and Infrastructure Subcommittee on Water Resources and Environment, which held the hearing.
Graves, who has said that he wants to make sure that the administration's forthcoming infrastructure plan includes water resources projects, added that regulations to protect the environment and ensure the health and safety of Americans "are all things that make a lot of sense. But in many cases, we have found regulations in search of problems."
Project Delays
Witnesses told stories of projects in the works for decades while they met environmental reviews and other regulatory hurdles. Jonathan Kernion, president of the Cycle Construction Company in Kenner, La., said that the environmental review for a harbor dredging project in the Port of Savannah, Ga., took 14 years to complete.
Meanwhile, in Louisiana, the state loses about a football field of coastline every hour to erosion, added Kernion, testifying on behalf of the Associated General Contractors of America. "It is alarmingly ironic that the lengthy environmental permitting and review processes that are intended to protect our coastline could, in part, lead to its further destruction," he said. "In order to build 21st century infrastructure, we need to be able to build it sometime this century."
Another witness, economist Jerry Ellig, said there is a tendency in the federal regulatory process for people to focus on "intentions rather than results." A senior research fellow at the Mercatus Center, a research organization in Arlington, Va., affiliated with George Mason University, Ellig said that a lot of workers in federal agencies "honestly believe that their job and their success should be measured by production of regulations or perhaps by enforcement activity rather than how many problems do they solve, what do they actually accomplish."
Defending Regulations
Rep. Peter DeFazio (D-Ore.), ranking member of the full committee, said that he, too, believes that bureaucracy and misguided regulations can lead to unnecessary delays and impediments. However, he cautioned against carelessly cutting regulations, which he said could lead to poorly thought-out projects that have unintended consequences. As exhibit A, he cited the central and southern Florida project authorized in 1948 that drained part of the Everglades and that he said is now recognized as a disastrous water scheme.
"If we approach some of these major projects in a more balanced way, I think we will be better off and not have to try and reverse their impacts later," he said. "The honest thing is the most major impediment [to infrastructure projects] is lack of funding, plain and simple. And then we can deal with any regulatory burdens that crop up in the interim."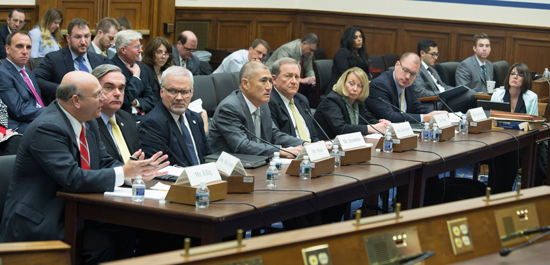 He cited the maintenance of ports and harbors for shipping as an example of projects largely slowed down by lack of funds, not environmental restrictions. At the hearing, DeFazio and Graves released a letter to President Donald Trump urging the administration to fully utilize money in the national Harbor Maintenance Trust Fund for their upkeep. The fund contains revenues from taxes levied on importers and domestic shippers who use coastal and inland ports. The letter says the fund, which currently has a balance of about $9 billion, gets diverted to other purposes while the nation's 59 busiest ports half of the time make due with much less channel width than they need.
Concern About Budget Cuts
At the hearing, Democrats cautioned that rolling back or streamlining regulations and making major cuts to the U.S. Environmental Protection Agency (EPA) budget, as the Trump administration has proposed, could lead to environmental and public health risks. The House committee has jurisdiction over EPA and the U.S. Army Corps of Engineers, agencies that often are involved with water projects.
Rep. Janet Napolitano (D-Calif.), the ranking member on the subcommittee, expressed concern that a large budget cut for EPA "will have a devastating impact on my state and other states and communities to address water quality challenge."
Witness Kevin DeGood, director of infrastructure policy at the Center for American Progress, said a big cut to EPA would slow down the regulatory process by eliminating positions of people who review applications. "If our goal here is to give people greater certainty and to speed those processes up, I don't see how cutting federal staff and federal budgets are going to do that," he said. "More importantly, we really undermine our long-term productivity and long-term public health."
In comments to reporters after the hearing, Graves challenged the notion that "money is some measure of output" and said there needs to be an examination into the efficient use of spending. "We are going to have to take a careful look and very much scrutinize what this [administration's] budget proposes to make sure that we are not crippling some critical government services," he said, referring to EPA and other agencies. "But I do feel strongly that dollars are not necessarily a metric of success, support, or output."
—Randy Showstack (@RandyShowstack), Staff Writer