This is an excerpt from a submission to the AGU Grand Challenges Centennial Collection that has been edited for length and clarity. Read the paper in its entirety here.
Rivers are fundamental landscape components that provide vital ecosystem services, including drinking water supplies, habitat, biodiversity, and attenuation of downstream fluxes of water, sediment, organic carbon, and nutrients. Extensive research has been devoted to quantifying and predicting river characteristics such as stream flow, sediment transport, and channel morphology and stability. However, scientists and society more broadly are often unaware of the long-standing effects of human activities on contemporary river ecosystems, particularly when those activities ceased long ago, and thus, the legacies of humans on rivers have been inadequately acknowledged and addressed.
Legacies, in this context, are defined as persistent changes in natural systems resulting from human activities. Legacies that affect river ecosystems result from human alterations both outside river corridors, such as timber harvesting and urbanization, and within river corridors, including flow regulation, river engineering, and removal of large-wood debris and beaver dams.
Failure to recognize the legacies of historical activities can skew perceptions of river process (the interactions among and movement of materials in a river system) and form (the physical configuration and characteristics of the land and vegetation in a river system) as well as the natural range of variability in river ecosystems, which in turn hampers informed decision-making with respect to river restoration and management efforts. This scenario has played out prominently, for example, with rivers in the Mid-Atlantic Piedmont and Pacific Northwest of the United States.
The long history and ubiquity of human alterations on river ecosystems have resulted in several grand challenges for scientists and society today: (1) recognizing the existence of legacies that continue to affect river ecosystems; (2) understanding the timing, type, and spatial extent of legacy sources and the intensity of human activities that caused them; (3) understanding the implications of legacies on river process, form, and ecosystem services; and (4) designing river management and restoration strategies that enhance ecosystem services.
Characteristics of River Ecosystems
A river corridor can be described with respect to process and form. Process describes the fluxes of materials within a river corridor and the interactions between these materials, as well as the physical configuration, biogeochemical characteristics, and biotic communities of the river corridor. Process thus includes interactions as diverse as channel bank erosion, nitrate uptake, or germination of riparian vegetation on newly deposited sediment. Form includes the geomorphic configuration of the land surface, the vegetation occupying that surface, and the stratigraphy underlying the surface.
The three primary physical inputs to river corridors are water, sediment, and large wood, which interact to sustain river ecosystems. Changes in the fluxes, behavior, and interactions of these materials result in changes in river process and form and can differ depending on whether a river system is in a natural state, or regime, in the absence of human alterations or if human activity has altered the system. Water and sediment are commonly considered the most significant inputs to river corridors compared to large wood. Where large wood is naturally abundant, the wood significantly influences fluxes of water and sediment within, as well as the form and geomorphic and ecological function of, river corridors.
Fundamentally, river corridors are dynamic systems that change continually in time and space, with adjustments occurring in response to changing boundary conditions, such as inputs of water, sediment, and large wood or shifts in base level, or in response to internal thresholds and feedbacks.
Human Alterations of River Corridors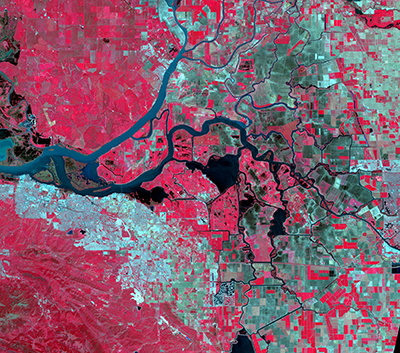 Human alterations often begin with changes in land cover outside river corridors, which alter water, sediment, and large-wood yields to the corridors. A typical scenario is that increased sediment yield following clearing of native land cover causes river planforms to change. Conversely, reforestation following cessation of agriculture can reduce sediment yields and result in channel incision [Keesstra et al., 2005]. Other common human activities outside river corridors that alter inputs include urbanization [e.g., Meyer et al., 2005], altered topography [e.g., Hooke and Martin-Duque, 2012], and, indirectly, climate change [Goode et al., 2012].
At least four salient points arise from considering human alterations of process and form in river corridors. First, these alterations are ubiquitous: Human-induced climate change affects every watershed on Earth [e.g., Gosling and Arnell, 2016]. And more direct alterations, such as flow regulation, affect nearly every river basin in temperate latitudes [Nilsson et al., 2005a].
Second, human alterations of watersheds and river corridors have a long history in some regions. Land clearing that affected water and sediment yields is recorded in river valley stratigraphic records from 7,000 years ago in China [Rosen, 2008] and southeastern Europe [Lang and Bork, 2006]. The earliest known dam was built in Egypt circa 2800 BCE [Smith, 1971]. And construction of artificial levees dates back 3,500 years in China [Clark, 1982]. Even in regions with relatively short histories of intensive human alterations of river corridors, like parts of the United States and Australia, human activities have had sufficient duration and intensity to fundamentally alter river corridor process and form [e.g., Brooks et al., 2003].
Third, multiple forms of human activities often overlap in time and space. Upland deforestation and mining during the latter half of the 19th century in the Southern Rockies of Colorado, for example, occurred synchronously with flow regulation, removal of large wood from river corridors, and alteration of floodplains via construction of roads and railroads [Wohl, 2011].
Finally, the effects of historical human alterations have, in some cases, been forgotten by society when the activity that triggered the alteration is no longer occurring [e.g., Phillips, 1997]. A striking example of this involves the legacy of thousands of mill dams in the U.S. Mid-Atlantic Piedmont [Walter and Merritts, 2008]. Mid-Atlantic Piedmont streams in which legacy sediment accumulated behind now abandoned mill dams experienced a complete transformation from wide, shallow, and marshy valleys to sinuous forms lined with tall cutbanks, but the existence and cause of this metamorphosis were not widely recognized until the 2000s. The eventual breaching of abandoned dams led to increased sediment and nutrient yields downstream that were subsequently recognized as detrimental to nearshore environments in Chesapeake Bay, for example. Increasing recognition of the origins of these legacy sediments [e.g., Merritts et al., 2013] was associated with changes in restoration practices, including efforts to remove millpond sediment to restore natural wetland valley bottoms [Merritts et al., 2011; Forshay and Mayer, 2012].
A similar scenario occurred in the U.S. Pacific Northwest starting in the late 1970s as river scientists gradually recognized how much more abundant large wood had been in river corridors prior to intensive deforestation and river engineering starting approximately 150 years ago [e.g., Collins et al., 2012]. As understanding has grown of the integral role of large wood in forested river corridors, river management and restoration efforts have increasingly emphasized protecting and restoring downed wood in channels and on floodplains [U.S. Bureau of Reclamation and U.S. Army Engineer Research and Development Center, 2016].
In each of these examples, scientific recognition of the continuing effects of historical human alterations came as something of a revelation, changing the way scientists conceptualize river process and form in a particular region or type of river corridor. There is no reason to assume that analogous revelations will not occur in future.
The Implications of Human Influence
Human activities have significantly affected fluxes of water, sediment, and large wood to and within river corridors. Notably, temporal and spatial fluctuations in these fluxes have decreased [Poff et al., 2007; Wohl et al., 2015]. These alterations have had many other effects as well, such as reductions in lateral mobility of river channels, which reduce the spatial heterogeneity of river systems and lateral connectivity between channels and floodplains [Florsheim et al., 2008]. Connectivity within river corridors has also declined [Kondolf et al., 2006]. These changes have simplified and homogenized river corridors, with attendant losses of habitat abundance and diversity [Peipoch et al., 2015], decreases in water quality [Erisman et al., 2013], and elevated rates of extinction for freshwater organisms compared to terrestrial organisms.
Although several high-profile papers have promoted recognition of the cumulative global effects of human alterations [e.g., Steffen et al., 2015], individual investigators have arguably not fully integrated the implications of human alterations into their research for specific watersheds. The default assumption is still commonly that outside of urban areas or obviously altered river corridors, conditions are relatively natural or at least reflect predominantly natural processes.
Ignoring the continuing effects of human alterations of watersheds can lead to fundamental misinterpretations of river process and form. And if we start with a misperception of the dynamic character or natural form of a river, we may develop less effective management targets.
Grand Challenges
The grand challenges resulting from historical human alterations of river corridors are fourfold. The first challenge is to recognize the presence of legacies that continue to influence river corridors. The second is to understand the sources of legacies, including their timing and chronology, the types and intensity of human activity involved, and the extent of the alterations. The third challenge is to understand the implications of legacies: How have process and form changed within a given river corridor, and how has this affected river functionality or ecosystem services? Is the legacy continuing to alter form and process? The fourth grand challenge is to design management or restoration strategies that can improve, or at least mitigate the loss of, river functionality or ecosystem services.
Understanding the sources and implications of legacies can be extremely difficult in regions where watersheds have experienced centuries of human influence. Reference sites in watersheds or along river reaches that have experienced minimal human alteration are thus invaluable. Knowledge of reference conditions and of the natural range of variability from historical [Pastore et al., 2010] and geological [Rathburn et al., 2013] archives provides critical insights for forecasting responses of rivers to natural disturbances or human alterations and for making effective river management decisions [e.g., Brierley and Fryirs, 2005, 2016]. For example, insights into the habitat requirements of potentially at risk species under reference conditions can help river managers target critical factors, such as the minimum duration of overbank flooding needed for successful fish spawning and rearing [Galat et al., 1998].
The fourth grand challenge is determining how to incorporate knowledge of natural conditions and human alterations into river management. There are various approaches to accomplish this. One is to maintain or restore characteristics of a river corridor that create a desired process. This approach underlies, for example, the restoration of riparian vegetation as a buffer to retain upland inputs of nitrogen, phosphorus, and fine sediment. Another approach is to create a template of river corridor form that will facilitate desired processes. Examples include the emplacement of engineered logjams [Roni et al., 2014] or beaver dams [Bouwes et al., 2016] to mimic the function of natural features, setting back levees to restore channel-floodplain connectivity [Florsheim and Mount, 2002], and removing artificial barriers to allow high flows to return to abandoned channels [Nilsson et al., 2005b].
The different approaches have advantages and limitations, but each relies on insights into how human activities have modified river corridors. Undoubtedly, the greatest hurdle for effective river management occurs when we mistake human-altered for natural process and form and thus fail to consider the full range of management strategies.
Legacies and Perceptions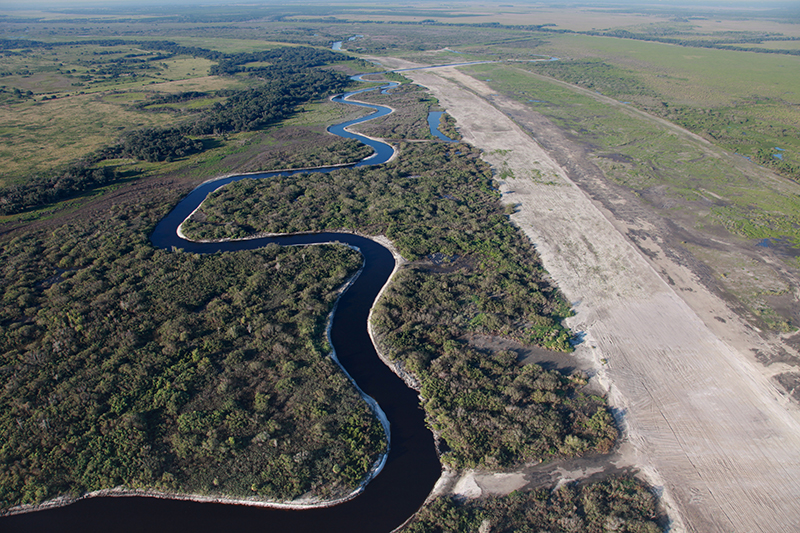 Perception governs our understanding of the natural world: What we experience is what we understand to be normal. In this context, fully natural river corridors strike some people as dangerous, unnatural, and in need of restoration and management. Similarly, river corridors that have been heavily modified by humans are sometimes perceived as natural and fully functional with respect to ecosystem services. These sorts of perceptions are the greatest obstacle to understanding forgotten legacies of human alterations in river corridors. They also hinder management and restoration efforts.
Even regulators who are enthusiastic about restoring river systems are sometimes constrained by policies created to protect existing habitat and that measure the quality and value of existing conditions with assessment tools that do not account for legacy effects. Because these policies were developed on the basis of modern streams, they limit the possibilities for restoring many lost ecosystem functions.
Scientific understanding of rivers as dynamic, heterogeneous, nonlinear ecosystems is commonly at odds with societal expectations for attractive, simple, stable rivers. As the global human population continues to grow and becomes ever more urbanized, questions emerge about how much space, water, sediment, and wood rivers need to provide vital ecosystem services. And how can the necessary space and inputs be reclaimed from humans? Phrased differently, at what point in the downward spiral of river engineering, damage from natural hazards like floods, and loss of ecosystem services do we reenvision future directions and move people and infrastructure out of river corridors [e.g., Perry and Lindell, 1997]? Effectively addressing these questions requires that we understand how past human activities have modified river corridor process and form, as well as how those past alterations constrain river science and management going forward.