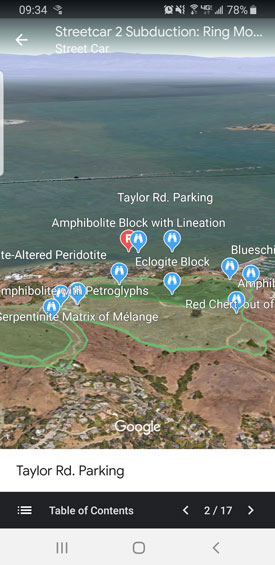 "It is hard to be unaware of the earth in San Francisco. Built on rocky hills, the city is surrounded on three sides by bay and ocean that can be seen from nearly everywhere within it. Precipitous cliffs face the city from across the Golden Gate, and the skyline to the north, east, and south is dominated by mountains. Occasional tremors from the San Andreas and related faults nearby remind us that the earth here is active."
This glimpse into the story of a changing Earth revealed in the bedrock of a city serves as the introduction to the 1984 publication A Streetcar to Subduction and Other Plate Tectonic Trips by Public Transport in San Francisco. The guidebook, written by the late Clyde Wahrhaftig, presents a series of plate tectonics field trips accessible by public transportation in San Francisco.  With the book in hand, you might take the J line streetcar to explore a serpentine outcrop that was once buried deep beneath Earth's surface or board a bus to discover examples of pillow basalt and sandstone cliffs, all while digging into anecdotal records from historical events like the 1906 San Francisco earthquake.
The 35th anniversary of the publication of Wahrhaftig's guide marks the arrival of the revised Streetcar2Subduction. Researchers Jamie Kirkpatrick (McGill University), Callan Bentley (Northern Virginia Community College), Kim Blisniuk (San Jose State University), Christie Rowe (McGill University), and John Wakabayashi (California State University, Fresno) led the initiative aimed at preserving the legacy and intent of the original guide while meeting the needs and opportunities of a digital age.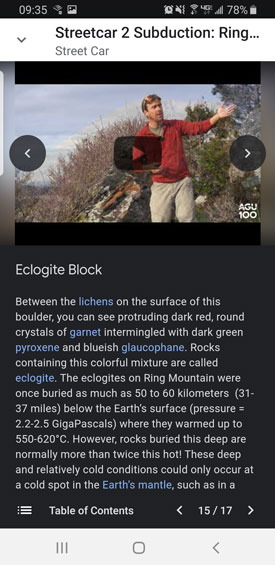 New Tools
Google provided AGU with early access to its new creation tools to develop a mobile-friendly field guide for participants to access via the Google Earth app. A dozen locations, including Angel Island, the Marin Headlands, and the Hayward Fault, offer the user 5–20 sites to explore. When users visit each site on foot, the app provides enhanced content, including original imagery, videos, and other digital media to enable discovery learning.
Take the Streetcar (or Rideshare) to Subduction
Streetcar2Subduction will launch in coordination with AGU's 2019 Fall Meeting and a set of sold-out field trips. If you are at #AGU19, stop by the Google Booth at 1:30 p.m. on Tuesday, 10 December, to hear from the team who created it.
If you're in San Francisco, you can try the new field guide for yourself! Learn how
here
.
—Kelly McCarthy (@kmccarthy317), Centennial Communications Manager, AGU