GeoPRISMS: Filling in the Margins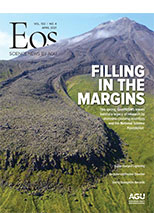 • Slipping and Locking in Earth's Earthquake Factories

• Earth's Volatile Balancing Act

• Breaking Up Is Hard To Do, Especially for Continents

• A Successful Model for Interdisciplinary Research

• Crossing the Shoreline
They were going to meet in San Francisco last December to celebrate the end of an era. Then the community of scientists behind GeoPRISMS had to make the same adjustments all of us did and moved those toasts into this spring. But they nevertheless gathered for virtual sessions at AGU's Fall Meeting 2020 to take a look at the legacy they created in a set of oral sessions titled "Advances in Understanding Continental Margin Evolution: Two Decades of GeoPRISMS and MARGINS Science."
That community actually sprung up not 2 but more than 3 decades ago, when a group met in 1988 to discuss how Earth scientists and ocean scientists could better work together. In response, the Earth Sciences and Ocean Sciences divisions of the National Science Foundation teamed up to fund MARGINS, launched in 2000. Its success led to a 10-year successor program called Geodynamic Processes at Rifting and Subducting Margins, or GeoPRISMS. This issue of Eos looks at these impressive initiatives as they come to a close this year.
Anaïs Férot, the GeoPRISMS science coordinator, writes more about this history in our issue. Over these few decades, the programs have developed not only a successful model for producing good science, but one that produces good scientists. The community made a dedicated effort to support early-career and diverse researchers and regularly participated in education and outreach through initiatives like the GeoPRISMS Distinguished Lectureship Program, sending speakers to colleges, museums, and other public venues.
Férot connected us with the scientists featured in this issue who have provided just a small glimpse into the volume of research GeoPRISMS has produced. Noel Bartlow and colleagues take us on a world tour of the "Slipping and Locking in Earth's Earthquake Factories," from the Nankai Trough off southwestern Japan to the Middle America Trench beneath Costa Rica and several others. Bartlow et al. describe what the differences and commonalities between these locations tell us about earthquake processes and how new studies can continue this work started by MARGINS and GeoPRISMS.
We switch from movement of the ground to movement of water and gases with James D. Muirhead and colleagues in "Earth's Volatile Balancing Act." Understanding how carbon dioxide, sulfur dioxide, and water circulate between the ocean, atmosphere, and minerals in Earth gives us crucial information about the planet's tectonic and volcanic processes and our climate. Finally, Lindsay L. Worthington and colleagues describe the long—much longer than previously thought—process it took for Africa and North America to split.
Thanks also go to Michelle Coombs, with the Volcano Science Center at the U.S. Geological Survey, who let us use her photo of lava flow on Kanaga Island in Alaska for our April cover. Her image won first place in 2017 in an annual photo contest held by the GeoPRISMS program.
Do you have an amazing photo from the field or lab? Send it to us and we may feature it in print in Postcards from the Field. Usually, you'll find these beautiful contributions on our final page, but in this issue we are very excited to bring you another crossword puzzle—fitting in with our theme of geoprocesses—by Russ Colson, Minnesota State University Moorhead. Enjoy!
—Heather Goss, Editor in Chief